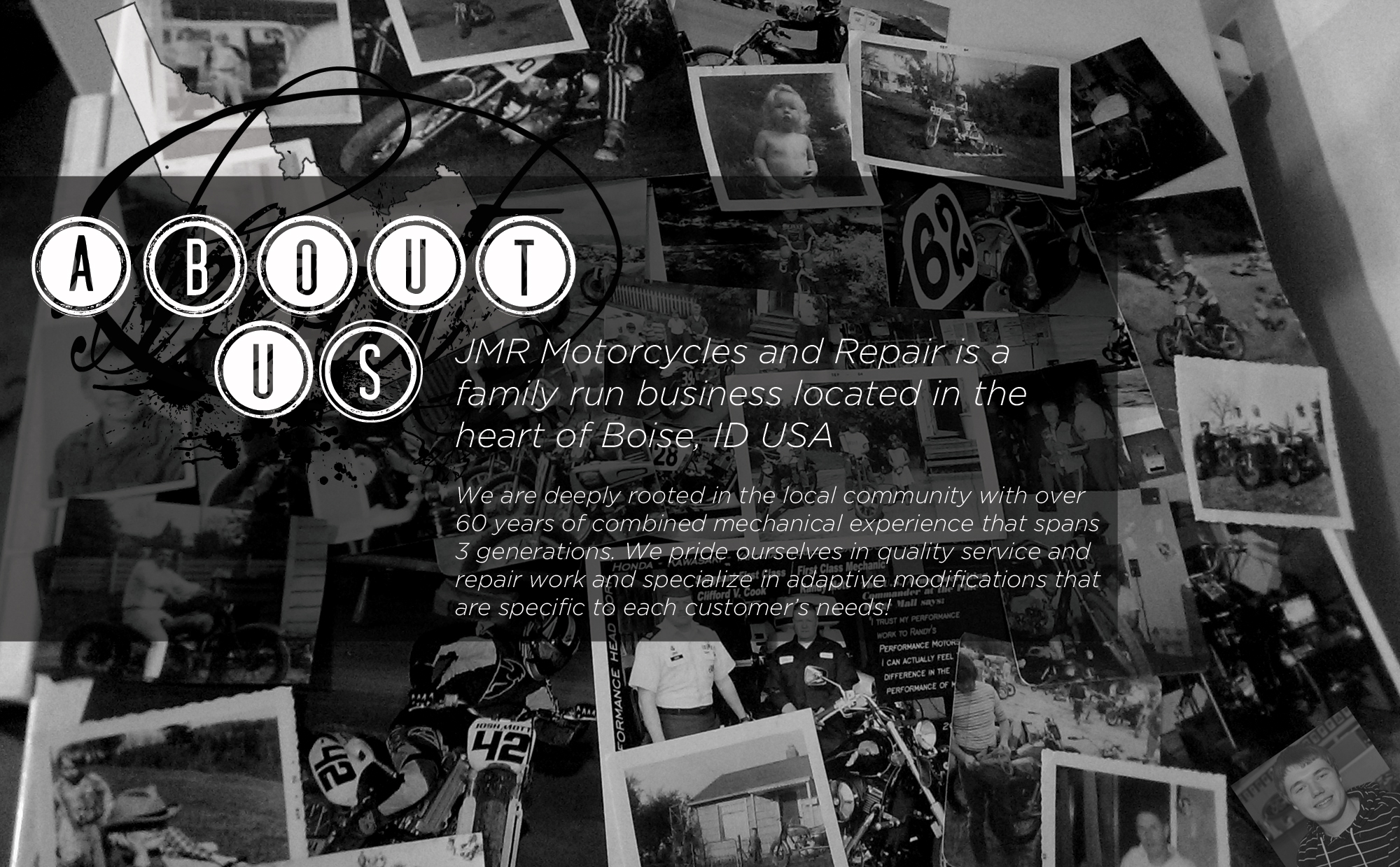 ABOUT JMR
JMR Motorcycles and Repair is a family run business located in the heart of Boise, ID USA.
We are deeply rooted in the local community with over 60 years of combined mechanical experience that spans 3 generations. We pride ourselves in quality service and repair work and specialize in adaptive modifications that are specific to each customer's needs.
JMR Service and Repair
From basic maintenance, to full engine overhauls, we do it all! Our experienced staff can tackle anything you throw at them.
At JMR Custom Motorcycles and Repair we specialize in a wide variety of maintenance and service work. We offer competitive pricing packages for all types of vehicles, with the quickest turnaround time in the Treasure Valley!
"At JMR, we pride ourselves in quality work... NO EXCEPTIONS!" - Randy Mott
Josh Mott Racing Boise, ID
From the dusty circle tracks of Southern California, to the loamy black dirt of Northern Washington, JMR's roots in the motorcycle racing run deep. No matter what style of racing you do, JMR has you covered! We specialize in a wide range of set-ups for Motocross, Enduro, Desert, Flattrack, GP, Supermoto, and Street racers.
We've bled racing and lived for the weekends since the early 1950's and we're not about to stop… If you need help setting up your race bike give us a call today!
JMR Boise, Idaho
Boise Motor Cycle Repair, JMR, Josh Mott, Randy Mott, Custom Bikes, Boise Bikes, Cheap Repair, Best Repair, Boise Idaho, ANY year Harley Davidson Service and Repair Boise Idaho, Harley Davidson Repair Boise Idaho, Harley Davidson Parts Boise Idaho, S&S Engines Boise Idaho, S&S Dealer Boise Idaho, Power Commander Dealer Boise Idaho, Power Commander Tuning Center Boise Idaho, Drag Specialties Dealer Boise, Custom Chrome Dealer Boise, Teds V-Twin Dealer Boise, Certified Dynojet Tuning Center Boise, Certified Dynojet Technician Boise, Dyno Tuning Boise ,Motorcycle Service and Repair Boise Idaho, Motorcycle Parts new and used,motorcycle frame welding,boise weldi ng, motorcycle superstore,Thumper talk,motorcycle tire installer boise Idaho,Owyhee motorcycle club,sidra,flat track,Motorcycle Maintenance and Repair JOSH MOTT RACING brings trustworthy motorcycle repair to the Treasure Valley, offering superior motorcycle service and quality retail products,desert racing,motorcycle parts boise, boise motorcycle, motorcycle parts distributors, motorcycle repair boise, boise motorcycle shops, motorcycle parts for sale, discount motorcycle repair, cheap motorcycle accessories, boise motorcycle accessories,racing station, trail tech, vapor,megacycle cams, webb cams,cp pistons,JMR CUSTOMS carries top brands like Arctic Cat, CAN AM, Spyder, Sea-Doo, Ski Do, Husaberg, and Husqvarna. Proudly serving Boise, Nampa, Caldwell, & the entire Treasure Valley with parts & accessories for motorcycles, snowmobiles ATV & Side by Sides. Hog,gasket kit,customexhaust, HONDA,YAMAHA,SUZUKI,KAWASAKI,TRIUMPH,BMW,DUCATI,HARLEY DAVIDSON,evo big twin,Motorcycle repair, atv repair, motorcycle service, atv service, motorcycle garage, atv garage, motorcycle mechanic, atv mechanic, motorcycle parts, atv parts, utv repair, utv service, utv garage, utv parts, utv mechanic, motorcycle consignment, atv consignment, utv consignment, motorcycle tires, atv tires, utv tires, ktm repair, ktm service, ktm garage, ktm parts, motorcycle accessories, dirt bike repair, dirt bike parts, dirt bike service, dirt bike garage, street bike repair, street bike service, street bike parts, street bike garage, Harley Davidson mechanic, Harley Davidson service, Harley Davidson repair, dirt bike tires, street bike tires, motorcycle transmission, motorcycle chains, motorcycle clutch, motorcycle engine repair, motorcycle engine service, motorcycle engine parts, motorcycle suspension, motorcycle engine rebuild, race tech boise, race tech service center boise, race tech gold valve boise,snap on tools ,Four stroke performance boise,vintage motorcycle restoration boise,vintage bsa restoration,CUSTOM MOTORCYCLE BUILDER BOISE IDAHO,CAFÉ RACER BOISE IDAHO, flat track engines,ONE MOTORCYCLE SHOW,craigslist boise , crank shaft rebuilding,pipe burn, bike shed, salvage parts, six speed, motorcycle USA , CUSTOM MOTORCYCLE FABRICATION, CUSTOM SEAT PANS ,custom wiring,custom choppers, custom, choppers, motorcycles, pro street, bikes, custom motorcycles, built, Harley Davidson, pro street bikes, Harley, Davidson, cycles, customs, custom built, custom built choppers, street bikes, Harley choppers, street, bikes, builders, soft tails, ridged, frames, fat boys, choppers, motorcycle BOISE IDAHO,motorcycle tools,motorcycle machine work,gas tank repair,vintage choppers, MOTORCYCLE CARBURETOR REPAIR BOISE IDAHO , MOTORCYCLE CARBURETOR CLEANING BOISEIDAHO,pro taper,western power sports,dual sport,ktm boise,ktm service,ktm rebuild,